The Importance of Being Earnest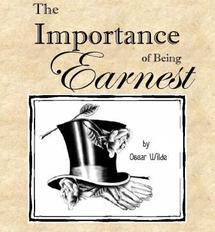 Sunday, June 3rd, 2012 @ 14:00
, Bern
A school play (and maybe even more..) in Bern!
The International School of Berne proudly presents
Oscar Wilde's The Importance of Being Earnest
Where:
http://www.theater-am-kaefigturm.ch/
When:
Saturday, June 2nd at 20:00
Sunday, June 3rd at 14:00
Tickets:
Presale: 10 CHF students, 15 CHF adults
at the door:15 CHF students, 20 CHF adults
The event can be combined with a before/after dinner/lunch/drink depending on you.
Note: Unfortunately I won't be able to see the play or to join you for a drink/dinner because I won't be in the town next weekend, I just wanted to let you know about this nice event, and I hope that some of you will go and have a great time togehter, you can contact eachother to fix a time and place to meet up.
The age range of the kids is between 14-18, it is school play, so it is not professional BUT the kids were working very hard and I am sure they will be very happy to present the play in front of a nice and big audience :)
Thanks for everybody who is willing to support this kids, it will be an honor for them to entertain you!
Cheers,
Kati