Saturday short hike from Röschenz to Kleinlützel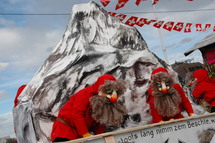 Saturday, February 25th, 2012 @ 13:30
, Basel
This will be another rather short hike in the Basel area, at "low altitude" (450-600 m), and this time I believe we won't encounter any snow. Plan is to start in Röschenz (near Laufen), and follow small roads and trails to finish in Kleinlützel.

Participation: Please sign up to participate. The group size upper limit is 15 people.

Weather forecast: partly sunny, temperature up to 8 Celsius.

Difficulty: Short and fairly easy: 8 km long, about 250 m going up and down, about 2 h walking.

Meeting point and transportation:
Basel SBB, in the entrance hall under the billboard, 13:25 (ignore the time in the automatic "reminder" email, it may show a different time). The train to Laufen departs at 13:37, platform 16. In Laufen we change to a bus for Röschenz.

Tickets: You do not need any transportation tickets if you have the TNW pass. Otherwise, please buy a single-way ticket to Röschenz.

Return: The return will be from Kleinlützel, via Laufen (again, no ticket needed if you have the TNW pass). Return in Basel at 17:22 or 18:22.

To bring:
- Hiking boots are preferred (the trails may be muddy in some places)
- Water
- Snacks optional (a lunch break is not planned since we're starting walking at 2:15 pm).
- Sunglasses
- Rain protection just in case

Responsibilities:
- As always, each participant is responsible for his/her own safety at all times. Anyone joining this activity does so at his/her own risk.

Contact:
- If you need to reach me, my cell phone is 079 264 4022.