Biggest Sailing Show: Trip to Kieler Woche for 3-5 days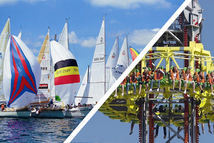 Wednesday, June 20th, 2012
Germany, Kiel/Hamburg, Basel
Hi all,
This announcement is short-term and needs your speedy action:
This multi-day trip is for all sailing enthusiasts and party people alike. KIELER WOCHE in North Germany (near Hamburg) is the biggest sailing show world-wide. There is an endless list of activities and events. If you are interested, we could go there as a group. I just started to do my planning and soon I will reserve my accommodation.
Video:
http://www.kieler-woche.de/programm/videos/index.php?video=video.kiel.de/trailer/trailer2012_600.flv
Website:
http://www.kieler-woche.de/
Costs:
150 EUR (flight) + 50 EUR (train) + 3*50 EUR (hotel) = 350 EUR (approx.)
Please feel free to contact me ASAP. Your recommendations are welcome! I am looking forward for some exciting experiences @KW!
Thanks,
Danny