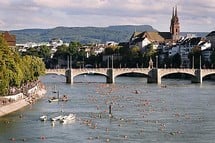 Thursday, July 26th, 2012 @ 18:30
Tinguely Museum, Paul-Sacher-Anlage 2 (behind the museum at the waterside), Basel
The weather will be perfect for a swim in the Rhine this week!
Forecast for Thursday: up to 30 degrees!

Lets meet behind Tinguely Museum, down at the waterside at 6.30pm, and swim towards the Buvette at Kaserne on Kleinbasler side. (I might go again on Friday evening and meet Emanuele for a drink afterwards).

This is for reasonable good swimmers only.
Please bring: water proof bag ´Fish´(to put your clothes, towel, personal things, etc.in), towel, swimming suit, and some money for the beer afterwards.
Preferably wear your simming suit already when coming to Tinguley musem as there are no changing facilities.
Around Kaserne there is a shower and also changing possibilitiy (WC).

For 'not swimmers': come around 7.30pm to the Rhine at the Kaserne Buvette (between Johanniterbrücke and Mittler Brücke) for a beer.
Or we join Cynthia at the concert.

As always, everybody is responsible for his/her own safety at all times. Anyone joining this activity does so at his/her own risk.

My mobile no. is 076 350 6763, in case you cant find us.