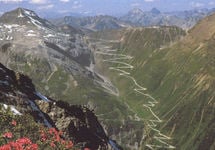 Saturday, September 8th, 2012 @ 06:00
TBD, Basel
Stelvio pass has been described as the best driving road in the world (see clip from Top Gear below). Asphalt spaghetti draped across a mountain. I have been dreaming about driving this road since I moved to Switzerland 3 years ago. Who wants to join me as a passenger? Carpe diem
My car only has 2 real seats so I can only take one person. so this will fill up after one person signs up. But I'm keeping it posted to see if anyone else would like to join in a car or motorcycle. You can rent a fun car here:
http://www.eliterent.com/
I will drive safely (as one always should) but this is not a trip for someone who gets car sick easily :). We can switch drivers mid way or for the return trip if interested. the plan would be to drive from Basel to Davos, grab a quick bite to eat, then Davos to Stelvio through Stelvio pass, spend the night then return the following morning. this event is highly weather dependent. If it's raining, we will have to postpone.
http://www.youtube.com/watch?v=eh-S2aEdSk0