New date: 5-lake hike on the Pizol.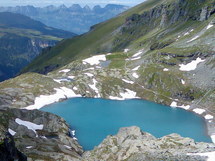 Saturday, September 22nd, 2012 @ 06:30
Sargans, Basel
FINAL UPDATE: I'm not canceling the tour this time, but please expect quite wintery conditions: max 5°C, rain-snow-sun-wind-clouds and come adequately prepared. If too bad or the track officially closed, we can have a lighter hike and longer lunch in the Pizolhütte. It's always warm in the Thamina Spa in neighbouring Bad Ragaz :-)
See you all on Saturday!
Detailed description (in German only) is available here:
http://www.pizol.com/sommer/aktivitaeten/wandern/5-seen-wanderung.html
We take the 6:33 train to Sargans, where a few minutes bus ride takes us to the cable car in Wangs. The 3 cable cars take as to our starting point, Pizolhütte at 2227m above sea level. There we can have a coffee and enjoy the scenery while adapting to the altitude and around 10:00 we start hiking. Our last cable car departs at 16:30 from Gaffia (1868m) or at 17:30 from Furt (1522m) which will give us enough time for a few short breaks and taking pictures as we go.
Please buy your tickets to Pizolhütte via Wangs at the SBB counter or ticket machines using the special offer hyperlinked below. Better to do this the previous day. We meet in Basel SBB at the escalators in the big hall at 6:20 latest.
Make sure you bring enough water, snacks, good hiking shoes (some snowy patches are still to be expected) and good mood :-) Everybody is responsible for oneself - I'm not a profi tour guide.
You can reach me at 076 593 40 30.
See you soon,
Kocho
A one day hiking tour I've only partly done some years ago. I propose this date as a placeholder, but also deciding to do it on a short notice for another date shouldn't be a problem. You can find enough info here:
http://www.sbb.ch/en/leisure-holidays/day-trips/sports-relaxation.angebotdetail.tagesausfluege-sport_45_und_45_erholung-wandern-seenwanderung_45_pizol_45_sommer.html