Chlausen-Degustation - Wine Tasting 30.11. / 1.12.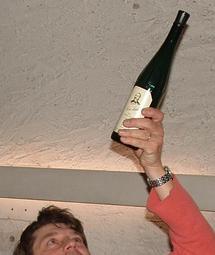 Friday, November 30th, 2012 @ 16:00
FiBL - Forschungsinstitut für Biologischen Landbau, Ackerstrasse, 5070 Frick, Basel, Basel
I was several times asked, where one can find good Swiss wines...
Well, the wine tastings of FiBL are the best occasion to taste (in the research institute's own wine-cellar) some of the best wines the surroundings of Basel have to offer . And uppermost they're organic (bio).
It's free of cost and accessible to everyone. There's a shuttle-bus organised from the train-station (Frick) to the cellar. Frick can be joined from Basel with the "Umweltschutzabonnement"; trains leave 3 times per hour.
Here you find more information:
http://weingut.fibl.org/
How to get there is described here:
http://www.fibl.org/en/switzerland/location-ch/how-to-find-fibl-switzerland.html
The tasting takes place on 30th november AND 1st december from 16.00 to 20.00.