Watching the Cows Fighting at Plainpalais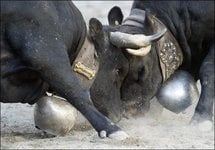 Wednesday, August 1st, 2012 @ 15:30
Plaine de Plainpalais, Geneva
This year, a cow fighting is organised on the Plaine de Plainpalais for the National day so I'm going to watch it.
It should start at 4 pm and end at 6 pm.
We could meet around 3.30 and find a nice place.
I will wear my X-Files cap, with a small Glocals sign on it and my black Flying tigers T-shirt, a bmx-club from Thurgau.
Meeting place : near the tram stop, on the side of the plaine de plainpalais
http://goo.gl/maps/Bsnx
I'll be in the area from 3 o'clock.