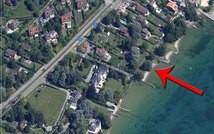 Saturday, August 18th, 2012 @ 10:00
VERSOIX, Geneva
Hi guys!
As it seems like the weather is perfect for it this weekend, we are gonna have a BBQ in the shining sun of Lac Leman this Saturday.
Everybody from Geneva Area is very welcome to join the party.
We will be @ Plage de Versoix from 10 AM as it will be a crowded and demanded spot because of the weather. See picture for details. It's easy to find but feel free to contact me +33 6 13 36 40 51.
You just need to bring your food, drinks, smiles and sun creams..
We will have th barbecue set ready for you.

PS: For those without cars, Station Versoix is close to the spot.
PS2: Swimming suits and towels are highly recommended.

I remain at your disposal if you need further information.
See you there people.