French/English language exchange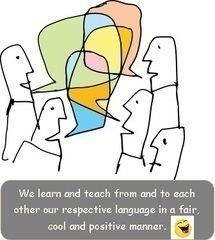 Saturday, August 25th, 2012 @ 16:30
Plaimpalais, Geneva
Dear all,
The idea of the French/English Language Exchange is for French and English speakers to help each other in learning the language of the other.
This activity is related to a group and a specific forum. Feel free to join in, it is all free. Have a look to our principles though ;-)
Group:
http://www.glocals.com/groups/geneva-french-english-language-exchange-group.htm
Forum :
http://english-french.forumgratuit.org/
WHEN : We meet up each Saturday afternoon between 16h20 and 16h30.
WHERE : In front of the building called Maison des arts du Grutli, or by its information desk on the ground floor,
Le Grutli is located at : Rue du Général-Dufour 16.
Bus or tram stop: Place Neuve or Cirque.
Google map :
http://g.co/maps/tp474
HOW
Each one chooses her/his group/partner to talk with but first, we divide into pairs or small groups of 3 or 4 people with at least one native French speaker and one native English speaker in each group. .
When possible, we suggest you to match levels and purposes.
A levels go together
B levels go together
And C level go together.
Purposes and tips :
If you have some exams to prepare or need good English/French for your job, we suggest to work in pair (when possible) and have some materials/books with you.
If you are a A level, any books, novels or exercise books related to your level or that you like will be a plus.
If you are a B level, conversation is generally enough, although a book, news paper will help you to discover new vocabulary or to inspire your conversation.
If you are C level, you know enough to decide precisely your needs.
How to start :
After a short or long introduction, according to how famous you are (be famous, it is fun), we decide to talk 20 ou 30 mn in French and then we turn in English. Some of you prefer to mix French and English in the same time. But whatever the way you process, most importantly, let's do not forget to correct gently each other – so that we do not get used to our own mistakes.
Usually we go the Grutli bar but feel free to choose any other bar. We can also use the second floor of Grutli building (but there is no drink there.)
We meet up again by the information desk around 19H00 for those who want to stay on afterwards.
Thank you for enrolling if you are coming. If you come in time (16.20) we can talk to each other before organizing our groups ;-).