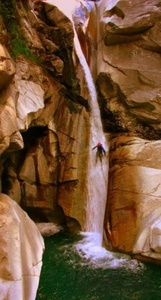 Saturday, September 8th, 2012 @ 08:30
Canyon du Gondo(VS), Geneva
Let's ride the best canyon in Switzerland !
http://www.youtube.com/watch?v=QjG9BzTzKIw
what we will do:
"That is following a stream through a narrow gorge, a great water activity with a high fun factor. We use the stream to follow the gorge: we slide down beautiful rock slides, swim through clear pools, jump into the water (optional) and abseil down waterfalls"
level required:
beginners are welcome
required equipement:
- a towel for the hot shower at the base (Sion) at the end of the day
- thermo underwears if you want
- water proof camera if you have one
operator:
swissraft -
www.swissraft.ch
provided equipement:
- 2 neopren wet suits and neopren shoes will protect you form the cold water (except face and hands)
- life jacket
- helmet
- abseil belt
duration:
8 hours, with 4 hours of canyoning + time to put on our amors + go to the canyon and come back to Sion + shower + goodbye drink
food and drinks:
provided by swissraft. we will have a pic-nic half way in the canyon.
price:
195 f.ch.
how to join and pay:
- RSVP the activity
- call swissraft reservation +41 (0)81 911 52 50
- tell them you want to do Canyoning at the Gondo the 1st september
- swissraft will immediately send you an email with a bill and the money transfer info
- transfer the money to them
how to go to swissraft from Sion:
let's meet at the Sion train station parking at 8:25am
then there is a 5 minutes walk following the railway to go to swissraft
how to go to Sion
- by car, we can organize the car sharing here (btw i have 2 spare sits in my car)
- by train (train from geneva departure 6:36am arrival at Sion 8:22am)
hope to see you there, this will be great fun :-)