Play rugby at the CERN-Wildcats Female Rugby Club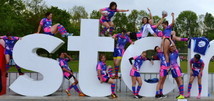 Tuesday, August 28th, 2012 @ 19:00
Chemin des Arbères, Meyrin, Genève, Geneva
The WILDCATS team, the female branch of the of the Rugby Club CERN-Meyrin-St. Genis (RC CMSG) is kicking off the new 2012-13 season, and is actively recruiting new players. You are most welcome to come on up and practice with us, we accept all levels of players, new players start with us every week!
The WILDCATS started out in September 2005 and is the only women's team in the Geneva area and have a broad range of nationalities and skill level so if you think you'd like to play, DO NOT HESITATE!!!
We train on Tuesday and Thursday evenings on the pitch in Meyrin (see map below) from 19:00 – 21:00. – get in touch.
Pre-season training will start on August 21th.
We also like to enjoy ourselves off the pitch and often organize events and outings like pub quizzes (for fundraising) and nights on the town
For more info on the club, check out our website:
http://www.cern-rugby.ch/the-wildcats
and how to get to the training pitch (
http://www.cern-rugby.ch/contact-us
).
Please get in touch if you have any other question! wildcats@cern-rugby.ch
HOW TO COME
From the Cornavin train station:
Take the tramway number 14 to Vaudagne (or Hôpital La Tour). Hop off the tram and walk down the hill. Turn left along Avenue de Vaudagne. Keep walking until there's a path on your rights called "le Chemin des Arbères". Turn down here and as you walk down you will see the pitch on your right.
http://maps.google.ch/maps?q=le%20Chemin%20des%20Arb%C3%A8res&rls=com.microsoft:en-us&oe=UTF-8&startIndex=&startPage=1&rlz=1I7RNSN_en&um=1&ie=UTF-8&hl=fr&sa=N&tab=wl