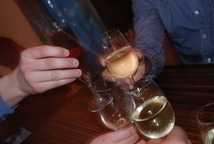 Tuesday, September 4th, 2012 @ 19:30
, Geneva
if you see this text, please send me a personal message. info will be sent Tuesday at around 5pm.

**************

the Tuesday Drinks are back after the summer break! join us for a drink or two, see old faces or make new friends! everyone welcome but please only sign up if you intend to come

starting TIME: 7.30pm.

the location information will be sent on Monday evening (and yes, that would be after the reminder is automatically sent!), to the people who've signed up.