Roller skating from Corsier to Chancy - back by TPG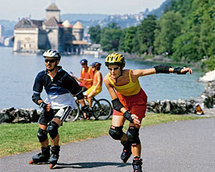 Sunday, September 9th, 2012 @ 12:00
Corsier, Geneva
We will start the roller skating tour from the post office in Corsier village 12.00hrs.
And pass by Vesenaz - Jardin Anglais - Lancy - Certoux - Soral - Avusy.
Coming back by TPG from Chancy. About 28kms, +85m and 2,5hrs plus pause.
If you are game just show up!
Join the group and stay tuned in:
http://www.glocals.com/groups/geneva-inline-cruisers-group.htm