Easy bicycle ride in the countryside south of Geneva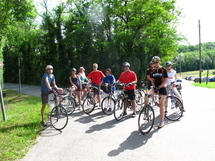 Sunday, September 23rd, 2012 @ 15:00
Acacias bridge, Geneva
I'd like to propose a bicycle ride in the beautiful countryside and vineyards on the south side of Geneva.
The ride is about 30 Km.
I would propose to start form Carouge area then progress all the way east to Veryer, go down to Pierre-Grand, proceed to Bardonnex, Perly, Lully and then keep going west to Sezenove, and from there start our return toward Geneva.
We'll be going through the vineyards that stretches between Sezenove and Cofignon, proceed to Onex and finally get to Gran Lancy and back to Route des Acacias.
See a map of the ride here:
http://goo.gl/maps/3T7oI
The ride should take us a couple of hours, maybe more since we will take it easy enjoying the views.
I would suggest we take the ride half way between leisure and mid-effort, the first bit of the ride is mostly upward while the final part is mostly downward, thus we get the easy leisure part at the end of our ride.
I would start around 3pm, meeting at the Acacias Bridge, so that we are easily back by 6pm and anyone may get home in time to prepare for whatever planned in the evening.
If you are interested and would like to join us, please RSVP so that I can keep tracking of who is coming and communicate with you more easily.
Thanks and hope to meet you soon!