Party: A Drink in Cafe Cuba and dancing in Disco La SIP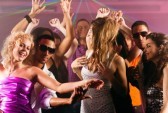 Saturday, September 29th, 2012 @ 22:00
Plainpalais - See text, Geneva
Dear Party friends,
As it is nicer to go dancing in a group I thought about meeting in a nice bar at around 10pm and go after midnight in the disco La SIP to dance and make party. Last 2 times we have been finally 12 party-people (6 by each gender) and it was fun.
The Bar: CAFE CUBA
1 place du Cirque - 1204 Genève
www.cafecuba.ch
We will have the lower floor inside for us.
Disco La SIP:
Where: Rue des Vieux Grenadiers 8-10, Plainpalais
Entree: Free
Drinks: Expensive like everywhere else in CH, but the Cocktail La SIP costs 11 CHF and has quite some power to make dancing easier/ even more enjoyable :)
Dresscode: They are sometimes a bit choosy whom to let in. Sport shoes will become very difficult. Each nicer, each easier - unfortunately as so often in life :-)
Please register if you plan to come that I know how to handle the tables outside. Please cancel before my message or SMS if you NOT come.
My number for the spontaneus deciders: 076-7430305
Hope to make party with you soon
Wolfgang alias pike