Jewellery Exhibition by Dragon Porter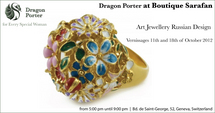 Thursday, October 11th, 2012 @ 18:00
Boutique Sarafan, Boulevard St_Georges 52 and Rue Village Suisse intersection, opposite pizzeria, Geneva
Chance to view and purchase from the latest collection of Dragon Porter with unique Artistic jewellery from Russia, Swtizerland,Uk and Israel.

The event will take place in Boutique Sarafan where bespoke clothing by Elena Baud will also be on display. Elena will be present on the evening and available to discuss specific commissions also.

Drinks and snacks will be served.