Glocals New-Member Drinks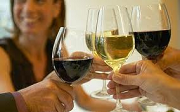 Wednesday, October 17th, 2012 @ 20:30
Paquis area, Geneva
Hello Members !
My name is Sarah-Jane, and I host the official Glocals New-Member Drinks. If you are new to Glocals, or if you are a veteran member that feels like welcoming some new faces to the community - this activity is for you!
VIDEO OF WHAT HAPPENS THERE:
http://www.youtube.com/watch?v=qvJ-hO-S9gU
WHAT ARE NEW-MEMBER-DRINKS?
A friendly gathering of over 80 new members (with some veteran ones too!), A chance to get together with other new members, and to get to know each other over a few relaxed drinks . You can also lean on the veterans too for Geneva tips and advice :-)
WHERE?
Cool, groovy, ambient bar in the Paquis area.
WHEN?
Wednesday, October 17th, from 8.30pm
TO JOIN:
RSVP yes on this invite page..PLEASE change back to no if it changes...
DETAILS SENT OUT DAY BEFORE & ON THE DAY
IMPORTANT:
Please only sign up if you are SURE to attend, this is a very popular event and spots are very desirable !
Welcome to Glocals, i look forward to seeing you there :-)
Smiles, Sarah-Jane