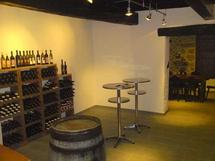 Sunday, November 4th, 2012 @ 12:00
Auberge de l'Ecu vaudoise, Rte de Saint-Cergue 1 1268 Begnins, Geneva
On the weekend of the 3th November local wine producers in Begnins, Luins and Vinzel will be opening their caves for people to try their New Wines 'Bourru' or very young wine.
http://www.caveau-luins-vinzel.ch/caves_ouvertes.php
I propose that on Sunday 4th November for anyone who's interested in going as a group, we meet up at Auberge de L'ecu Vaudoise for lunch at 12.00pm and go on from there to Cave des Trois-Clos, Cave du Fort, Domaine de Serreaux-Dessus and Domaine de Serreaux-Dessus all in Begnins. The cost of the wine tasting is CHF 15 and covers all four producers (and the ones in Luins and Vinzel – for those of you who'll still be able to stand!)
I've also spoken with the owners of the Auberge de L'ecu vaudoise and they've kindly agreed to put in place a set menu on the Sunday for CHF 30 However, for anyone who would like to attend we would need definite confirmation from you if you'll attend by the 30th October for the meal.
http://www.ecu-vaudois.ch/
(For anyone who hasn't been there and who lives in the Nyon/Gland area, I'd strongly recommend a visit to the restaurant there some time).
Hopefully see you there but for anyone who would like to go on another day or earlier on Sunday enjoy yourselves!