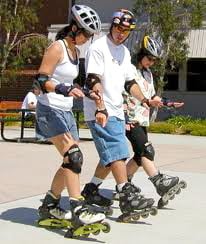 Wednesday, July 4th, 2012 @ 18:30
Vidy > Uni > Ouchy > Vidy, Lausanne
Wednesday evening, 4th July, 18h30
(depending on weather)

Roller-blading / Inline-skating
'false-beginners' +

Let's embarrass ourselves together, doing a round-trip:
Vidy > Uni > Ouchy > Vidy

For anyone who 'wibbles & wobbles' when on skates! ...If you're too good, we'll see you at the end in the watering-hole! ;o)

You need your own equipment before & are responsible for your own safety.
Exact RDVZ point for those IN the loop.

Cheers! :o) JT.