Dinner Wednesday August 29 at 19:30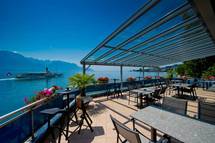 Wednesday, August 29th, 2012 @ 19:30
Grand-Rue 81, 1820 Montreux, Lausanne
Dear food lovers,
after a summer break I thought it was about time we got back to the business of trying out some more restaurants. As summer seems to have finally arrived I thought a nice place along the lakeside at Montreux would not go amiss.
http://www.eurotelriviera.ch/restaurant-matara.php
As usual places will be limited to around 10.