** Sizzling September !! - Pre "Jaspers" Drinks **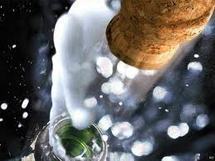 Friday, September 7th, 2012 @ 18:00
Ouchy, Lausanne
~~~~~~~~~~~~~~~~~~~~~~~~~~~~~~~~~~~~~~~~~~~~~~~~~~~~~~~~

Hello Again - Bubbly People of Lausanne!

Autumn is just around the corner (or "Fall" for our American cousins), so let's make the most of the last Summer evenings and come to chez moi for pre drinks and canapes prior to "Jaspers Drinks" at Chateau d'Ouchy (only 2 minutes walk from my place).

I can't promise a beautiful terrace and views of the lake, but cool music, nice company, bubbles and my "trademark apero" will be served.

The only house rule is to enjoy yourself and be at Chateau d'Ouchy in time for Jaspers – so arrive at mine from18h00 onwards (or earlier if you want to help me prepare 300 canapes!).

All friends welcome and I look forward to seeing as many of you here as possible. Sign up and I'll send you the entrance code to my place.

This is where the Party starts!!!