Squash - in Renens (walking distance to Renens gare)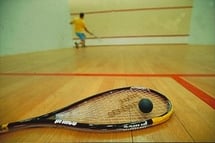 Tuesday, October 16th, 2012 @ 18:30
Renens (walking distance to Renens gare), Lausanne
Dear Squash Lovers,
Are you interested to play squash regularly?
I am looking for people to play squash with.
In Lausanne area, I found the following place:
ALCATRAZ SQUASH RENENS
Chemin du Chêne 7, 1020 Renens
Located very close to Renens gare:
http://goo.gl/maps/aE0MR
Tél: 021 634 10 00
http://www.alcatraz-squash.ch/Squash/Accueil.html
TERMS :
- 16 chf per person
- Open weekdays from 10am to 10 pm and weekends from 10am to 7pm
- I am planning to organize games either afterwork during weektime or morning time on the weekend
I am in low intermediate level; but anyone is welcomed. Depending on how many people we will be, we can form different groups.
People who have background in tennis or similar racquet sports can quickly excel in squash!
Interested to join?? Send me a message!
Cheers
Melih