2012-09-23 Sunday - A First Autumn Hike - The Swiss Way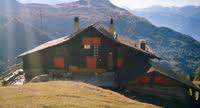 Sunday, September 23rd, 2012 @ 08:30
Vevey - Nendaz (Valais), Lausanne
Early Autumn Hike – a Valais Bisse and hill the Swiss Way
Haute-Nendaz to Le Tracouet via Les Mélèzes de Balavaud
To protect your knees we will do the hike the Swiss Way - walk up and cable car down!
We leave Vevey at 08.30 so that we on the trail from Nendaz by 10.15 am and we can stop for lunch after having completed most of the climb.
http://www.wanderland.ch/en/routen_detail.cfm?id=338582
Climb a big hill, follow an irrigation channel, admire huge trees and the view, bathe in the Black Lake.
The hike is not hard and the grade not very steep but you need to be fit since it is quite long (around 4. 5 hours) with a total gain of 1100 metres:
- After an initial climb up from the village, we will have a gentle climb following the Saxon Bisse – it is supposed to be the longest in the Valais.
- The route takes us by some huge spruce trees which are several hundred years old and are said to be the biggest in Europe.
- A steeper climb then takes us to the Cabane de Balavaud for refreshments. If you would like to eat here and maybe try the Autumn Venison menu, please let me know in advance and I will book a table).
http://www.cabane-balavaud.ch/
- The last 150 metre climb gets us to the Lac Noir where you can have a swim (a costume and a towel may be useful), then we assemble at the Tracouet for a last photo shoot before getting the cable car back down to Nendaz.
- The last cable car down to Nendaz is at 16.45.
What to bring:
1. The usual – hat, sun-cream, walking shoes/boots, sunglasses, water (at least 1.5 litres), camera, walking poles, any comfort items.
2. Some snacks (or food if you do not want to try out the food at the Cabane and maybe something to share at break stops.
3. Something to keep you warm at the top and something to protect you from the wind.
4. Spare shirt & shoes (to change into after the walk (your comfort) and so that you do not leave mud and sweat in the car (respect of the car owner).
5. Swimming costume and towel if you are brave enough to swim.
6. Good humour
Transport:
Option 1 - by car – please post if you can offer a lift or if you would like one.
Option 2 - by train and bus (depart Lausanne 08.23 and change at Sion for the bus to haute Nendaz. Arrive Haute-Nendaz Télécabine at 10.15 ).
http://fahrplan.sbb.ch/bin/query.exe/fn?
Numbers will be limited so please request an invite so that I can manage the numbers properly. The first requests of course get priority for the available places.
Thanks.