Lausanne Afterwork Drink by jasper (68th)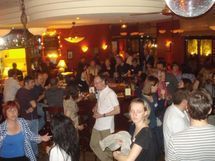 Friday, October 5th, 2012 @ 20:00
Place St-François, Lausanne
The next Lausanne drink by jasper is on Friday Oct 5th.
We'll meet again in lounge bar Le Colony.
This is a regular 1st Friday of the month drink - invite your friends and introduce them to glocals.
These afterwork drinks are unique occasions to meet other Glocals members (NEW and old, all ages).
Please RSVP so adequate reservations can be made
* located near Place St Francois, go down the stairs between the BCV-bank and magasin Coop.
For a map see
www.le-colony.ch/