Lets Get Classy on A Friday Night!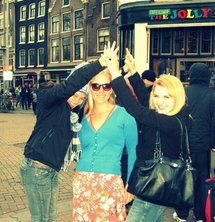 Friday, June 29th, 2012 @ 20:00
Bellevue, Zurich
Dear Ladies and Gents,

As the weather forecast for Friday is predicting 30° in the city, perfect for a long hot night, I think it will be just THE occasion to usher in an awesome week-end!

Amanda, Caitlin, and I will be at Bellevue by the steps/bus stop (one hot Asian, two sexy blondes) at 20:00 for some pre drinking in the city, and then we will do some crazy bar-hopping...

So come and bring some drinks, put on your sexiest attire, and make sure to hydrate before you come- get ready for a long night of dancing and drinking and flirting!


Invite your friends/potential hook ups

Dresscode: Ladies, good enough to get some free drinks at the bars. Guys: good enough to get some attention from the ladies and possibly not go home alone.

See you guys then!