Will's & LA's Tuesday Drinks @ Rimini (Talacker -rain)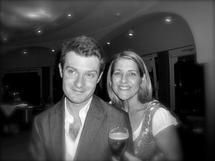 Tuesday, July 17th, 2012 @ 20:30
Rimini Bar Badweg 10 8001 Zürich, Zurich
Dear Friends,
Tuesday's bar is Rimini! If raining Talacker (close by)
This week's drinks will be at Rimini, it's a beautiful spot right in the city centre. Check out the website for directions
http://www.rimini.ch/
We look forward to seeing all our regulars and hopefully meeting some new friends too. Come along!
In particular we'd like to say a big welcome to new Glocals members! If you are new, we will of course introduce you. Send us a pm so that we can look out for you. It helps if you have a profile photo that isn't a chicken. ;) This is a nice relaxed evening so please feel free to come along, bring a friend or come along alone, we will make you very welcome.
Directions: Pretty much in the city centre. Take tram 2 or 9 to Sihlstrasse, head to the river and there is a path down by the side of Wagamama's which leads to the bar. Alternatively get to it from the other side by the Borse.
We are looking forward to meeting you!
Will & LA