Hike Uetliberg-Albispass with Ethiopian evening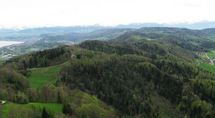 Saturday, September 22nd, 2012 @ 12:30
Zurich HB (mainstation) in front of the ticket booking office, under the big blue angel, Zurich
Dear all,
Many of us work abroad and have come to know and appreciate other countries and cultures. But how many of us know Ethiopia? Ethiopia is a fascinating country, and although poverty is still widespread, things are improving. And you have a chance to find out just how they have improved. On Saturday, September 22nd, you can see the sights, hear the sounds, and taste the food of Ethiopia - all here in Zurich. Ethiopian Enterprises, a Swiss-based group which is involved in special projects in Ethiopia, will hold an Ethiopian Experience evening in Langnau am Albis. You'll hear Ethiopian music, see film of daily life in Ethiopia, experience an Ethiopian coffee ceremony, and more.
I will attend this event and will combine it with an afternoon hike (Zürich-Uetliberg-Albispass-Langnau a.A., approx. 3.5-4 hours, back to Zurich with train or ship). Care to join me? Let me know, and book online for the event at:
www.ethiopianenterprises.org
.
Best,
Reto
Remark:
The Ethiopian event is entirely paid by the organisers. All the ticket money goes directly into the fund and the ticket price is tax deductible as a donation.
Do not forget to buy the ticket for the Ethiopian Evening on
www.ethiopianenterprises.org
! The deadline is on September 10.