Hike in unspoilt Switzelrand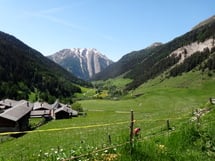 Tuesday, July 17th, 2012 @ 07:30
, Zurich
Fancy a hike in Binntal? I am going early Tuesday so if anyone is interested please email me at marlene_hotz@hotmail.com
Need to meet at Zurich HB at 7,45 to catch the 7:00 am train to Visp.
Binntal is a particularly unspoilt and very beautiful valley that not many people have heard of, I am def going so if you can join me it would be nice to have some company.