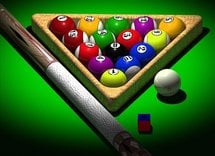 Thursday, August 2nd, 2012 @ 19:00
Buckhauserstrasse 40, 8048 Zurich, Zurich
Join us for an evening of billiards, drinks and fun.

Wehold this event every first Thursday of the month. Our first event was in February and we have had a good number of returning people each month.

This is at a private billiard club that is usually only open to members but we have it rented for the evening just for this event. There are pool tables, darts, a lounge area and separate smoking room.

Fee is 25CHF for men and 15CHF for ladies and includes unlimited pool, apero with 1 free drink and snacks (additional drinks for purchase). Please only RSVP if you definitely plan to attend so we can provide the club with an accurate head count so they can prepare the appropriate amount of food and beverages for the night.


Where: Billiard Club Zuri-West at Buckhauserstrasse 40, 8048 Zurich
When: Thursday, August 2nd, 19:00 - 23:00

SCHEDULE:
19:00-20:00 Arrivals
20:00-21:30 Optional lessons for those that are interested
21:30 Contest
23:00 Closing/departures

The private club is located within an office building so there will be signs in the building directing you to the club and I will send additional location instructions to those that register.