Hike – from Alt St. Johann (890m) to Frümsel (2270m)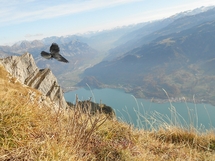 Wednesday, August 1st, 2012 @ 08:00
, Zurich
Starting point: Alt St. Johann
Destination: peak Frümsel above the Walensee (then back to Alt St. Johann via a slightly different route)
Technique: moderate
Physical fitness: sporty (about 1380 m elevation)
Length: ~12 km
Hiking time: 6-7h

Weather forecast: the weather is expected to be mostly sunny, 25 C degree. No rain is expected.

Description: this is a sporty hike, with some quite steep sections. The distance is relatively short, but the difference in height is about 1380 m.

Meeting and transportation: The train leaves from Zurich HBB at 8.25 (track 43/44), and arrives via Rapperswil, Wattwil, and Nesslau-Neu St. Johann to Alt St. Johann, Post at 10.09. Meeting is at Zurich HBB at 8.10 under the flying blue lady. There are bus connections from Alt St. Johann to Zurich at 17:47 , 18:43, 19:43, 20:43.

The halbtax ticket cost about 46 CHF roundtrip.

To bring:
- Hiking boots
- Lunch and drinks
- Rain protection, just in case
- Hiking poles, if you like using them to ease the 1380 up and down.

Responsibilities: I am not a tourist guide, you come at your own risk. Each participant is responsible for his/her own safety at all times. Anyone joining this activity does so at his/her own risk.

Contact: If you need to reach me, my cell phone is 076 201 9285.