EARLY BIRDS ONLY - SUNDAY Brunch (in food we trust)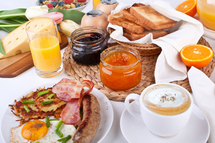 Sunday, September 9th, 2012 @ 10:00
Römerhofplatz 5, 8032, Zurich
The brunch crowd is back!
LE PAIN QUOTIDIEN was since a long time in my magic brunch list!
Unfortunately there s no way to corrupt them and get a reservation so I put this one at 10.00, only if you are brave enough then you should join...
looks delicious and hopefully we can sit outside!
Ah! Of course first come first please take as meany seat as possible!!!!
Römerhofplatz 5
8032 Zürich
Tram 3, 8, 15 bis Römerhofplatz
http://www.lepainquotidien.ch/
#/de_CH/standorte/zürich/römerhofplatz
The old good rules: I guess now everyone knows it, but still...
I think 10 people is the max in order to keep the interaction possible. Also I keep this event restricted so that I can keep meeting people I already know and allow some newcomers to mingle. Please don't be offended.
Please make sure to change your RSVP if you don't come, this is minimum civic sense and respect for the others especially when other people wanted to come! At about wed/thursd before the date I close the list so if you applied but did not recieve an answer sorry, it will be for next time! Also for the open places: first come first served.
If you don't like it you can try to organise one yourself, I can assure you it's easy! Thanks
(I don't like to be pedantic, but hope this way we are all happy and avoid misunderstandings!) Cheers