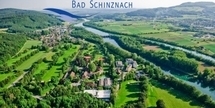 Sunday, September 23rd, 2012 @ 13:00
http://www.bad-schinznach.ch/de/termalbaeder/, Zurich
(Not quiet golf but....)
On Sunday 23 September a group of us are planning to travel to play pitch and putt.
Costs:-
Green Fees:- 27 francs for 1st nine holes, 15 francs for a second round
Club rental:- 5 francs
Possibility to be accompanied on the round by a PGA Pro - Limited to 4 persons - Reserve by sending me a PM. Cost: 20.-CHF per person in addition to Green fees.
The course consists of 9 "par 3" holes, so each hole is between approximately 50 and 100 meters. It is possible to play without a platzreife and allows everyone who has had either an introduction, schnupper or grund course a chance to practise what they have learned on a mini golf course. And it also allows those of you who have never played to also try.
Transport:-
40 mins by SBahn from main station (Zuerich HB)
Transfer to golf park is 5 minutes walk.
I will post the times of trains on here if people want to know the details. There is a train just aftern midday which will get you there in time for 1pm when we begin,
For those driving, the directions can be found at:-
http://www.bad-schinznach.ch/de/kontakt/anreise/
If you are driving and willing to offer a lift to others, then please post a message so others can contact you. I should have space for one person with clubs (leave the drivers at home...its par three)
Payment in advance – I will email details when you subscribe.