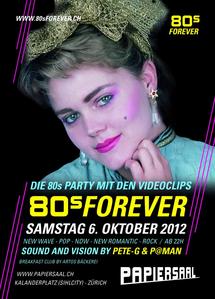 Saturday, October 6th, 2012 @ 22:00
Papiersaal (Sihlcity), Alte Sihlpapierfabrik, Zurich, Zurich
Hi All
Being inspired by the latest glocals Summer-End Party, we thought we need more!
If you happen to like the great music of 80s and would like to shake your body a bit, why don't you spend the Saturday night at the Papiersaal. Details here:
http://www.papiersaal.ch/events/225
The door opens at 10pm – if anyone interested to join we can meet earlier for a drink as a good starter :)
Cheers!
M.