Expovina Training - Monday Wine at Albisgütli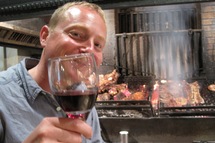 Monday, October 22nd, 2012 @ 20:00
Schützenhaus Albisgütli - Üetlibergstr. 341 - Tram 13 to Albisgütli, Zurich
Just imagine the wounderful taste of this lovely wine you always dreamt of ... How would this feel like on you tongue? ....
Well, anyway. Expect a good choice of the COOP supermarket selection to be available for tasting. I guess it is for free if you print the pdf-brochure from the coop-web-site.
http://weinwelt.coop.ch/weinwelt/weindegustationen.do
- I will try that, but otherwise it is probably 20 CHF.
We will meet between 19.45 - 20.00 o`clock in front of the entrance at Schützenhaus Albisgütli. See you there...