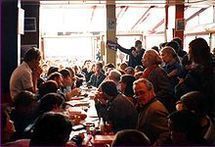 Sunday, February 19th, 2012 @ 19:00
Benjamin Bar @ Hotel de la Paix, Avenue Benjamin Constant 5, Lausanne, Switzerland, Lausanne
*~*~*~*~*~*~*~*~*~*~*~*~*~*~*~*~*~*~*~*~*~*~*~*~*~*~*~*~*~*~*~*~*
Back after the holidays folks !!! :)))
TOPIC OF DISCUSSION: "Do men and women speak the same language? Explain."
STARTING TIME: Café Philo will start at 19:00 SHARP. Please be on time :-)
VENUE:
Benjamin Bar @ Hotel de la Paix
(private room next to the bar)
Avenue Benjamin Constant 5,
Lausanne
+41 21 310 71 71
PARTICIPATION:
As a courtesy to our host, the Hotel de la Paix director, who is kindly letting us use a room free of charge, it will be asked to each participant to buy a minimum of one drink p/person. Thank you.
~*~*~*~*~*~*~*~*~*~*~*~*~*~*~*~*~*~*~*~*~*~*~*~*~*~*~*~*~*~*~*~*
WHAT IS A CAFE PHILO:
The first café philo was born 20 years ago in Paris thanks to philosopher, Marc Sautet. Its concept was to bring people together in a public friendly forum where they could discuss ideas in the spirit of tolerance and openness. The subjects discussed at the cafes had a range that varied from the Santa Claus myth to truth, beauty, sex and death. They raised questions such as What is a fact? and Is hope a violent thing?
The idea of Sautet's philosophy cafes have spread around the world. At the time of his death in 1998, there were about 100 "cafés philos" operating throughout France and some 150 cafés philos internationally.
A list of those café philos are to be found on the website below:
https://sites.google.com/site/cafephiloannemassegeneve/les-autres-cafes-philo-de-france-et-de-navars
ABOUT THE ENGLISH CAFE PHILO IN LAUSANNE:
The Lausanne café philo is held every fortnight on Sunday evenings, at 19:00, at the Benjamin Bar in the Hotel de la Paix (Avenue Benjamin Constant 5, Lausanne - private room next to the bar).
The debates are done in English and are attended by expats from all around the world through Glocals. Please sign in to participate and don't forget to RSVP NO in case of a change of plans.
The number of participants is limited to 25 due to the room capacity.
Like most of the café philos in the world, it is free of charge. However, as a courtesy to our host, the Hotel de la Paix director, who is letting us use a private room for free, each participant is kindly requested to buy a minimum of one drink p/occurrence.
A FEW RULES TO APPRECIATE THE DEBATE:
In order to ensure the friendly atmosphere and the spirit of tolerance and openness of the café philo, a few rules have been set up:
• Raise your hand and respect each participant's turn to speak
• Make concise statements; get to the point in order to make your idea as clear as possible
• There is no right or wrong. Everybody can explain their own point of view and expect to be respected. You can disagree but you cannot say someone is wrong or attack somebody.
• Avoid too personal examples. Reasoning implies taking distance with your own experience.
• Avoid dialogues and confrontation between two people.
Introduction / conclusion:
An introduction may be made by a volunteer. Every participant will be able to make their own conclusion either for themselves or in turn orally with one short sentence.
The café philo gathers a wide range of people with very different backgrounds of education, culture, religion and personal history. It is a great occasion to learn from others and to be challenged on our own believes or perceptions. This may require and effort of mind openness, of perspective and objective reflection on what is stated.
TOPICS:
The next discussions' topics are voted at the end of each session.
The previous café philos were about: truth, freedom, justice, happiness, love, depression, new kind of relationships, art, what a good life is, passion, is there no such thing as a necessary evil, is it good to work, what is a good up-bringing, how relevant religion is in today's world, ethics, the difference between imagination and reality, how our society influences our desires, inner peace, if the traditional pattern of marriage and monogamy can work in today's modern society, can democracy work in every society, eternal life, differences and are all communications manipulations.
You're welcome to post the subjects that you wish to be discussed at the Café Philo in the forum. I have posted a thread called "Café Philo topics":
http://www.glocals.com/forums/general/Caf---Philo-Topics-145267.htm
SUGGESTIONS:
Please feel free to send any suggestion to the following email address or to Izzie on Glocals.com: TheOpenMindsLausanne@gmail.com