Easter hike around Lake Kruth-Wildenstein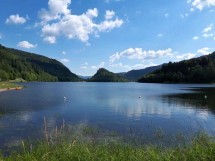 Sunday, April 17th, 2022 @ 09:00
Kruth, Basel
Legend has it that the lords who ruled over the region of Kruth were cruel hunters, who would chase the deer to exhaustion until the Bocklock waterfall. One day a black deer appeared by the waterfall and kicked the lord, sending him to the bottom of the abyss. Since then, wanderers passing by the waterfall may still hear the hooves of his horse and the moans of his pack dogs.
Nowadays there may not be many people left, living in the Kruth-Wildenstein region, but the region is a hiking wonder within the Vosges Natural Park, offering lakes, waterfalls and forests of spruce and pine trees. Plan then is to have a relaxing loop walk around the Wildenstein lake, from the panoramic ruins of the castle, accessible through a mysterious tunnel (
https://www.alsaceterredechateaux.com/en/castles-and-fortified-cities/wildenstein-castle/
), to the Bocklock waterfall.
Hike should take around 2,5 hours, with 300 metres of elevation gain.
Suggested train:
For going, trip is a bit longer as there is a replacement bus between Thann and Kruth.
(Basel 09:21 - Mulhouse 09:44, 9 euro or 3 euro if you take the previous train )
Mulhouse 09:56 - 10:35 Thann (3 euro)
Thann 10:40 - 11:11 Kruth (3 euro)
Coming back will be faster, we'll probably take the
Kruth 16:37 – Mulhouse 17:33 direct train/tram
(3 euro), unless we figure out there's something else to see, in which case we might go for Kruth 17:38 - Mulhouse 18:32.