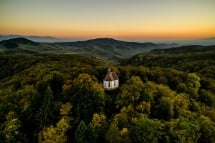 Sunday, October 9th, 2022 @ 09:30
Endingen, Basel
Anyone up for having a part hiking, part sightseeing and part piano-tour of the wine region west of the Black Forest?
Located in the volcanic vineyard region called Kaiserstuhl, the picturesque town of Endingen will host a bread market with parade on Sunday: not sure what exactly that means, but the plan is exactly to discover it, as well as have a 2,5 hour easy hike to the Katherine Chapel lookout point.
Hike is well described on:
https://www.ich-geh-wandern.de/rundwanderung-von-endingen-am-kaiserstuhl-zur-katharinenkapelle
(or, with a slight variant, on
https://www.outdooractive.com/de/route/wanderung/schwarzwald/von-endingen-durch-das-erlental-zur-katharinenkapelle-und-amoltererheide/176944191/
)
Following the walk, the evening plan (if you like classical music and, in particular, Grieg and Schubert) is to head to Lahr: where pianist Claire Huangci and the Stuttgart Philharmonic Orchestra will hold a very nice concert.
How to get to Endingen:
Let's catch 9:58 Basel - 11:25 Endingen (there's a change at Freiburg)