Let`s discover Schwarzsee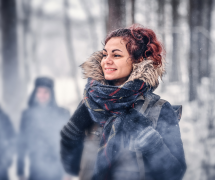 Saturday, February 26th, 2022 @ 17:30
, Bern
Dear All,
I am planning an exploratory program to Schwarzsee on the 26th of February.
What you can expect:
15:30-18:30 easy stroll around Schwarzsee (8 km on flat terrain)
18:30 visit of the Schwarzsee Ice Palace (last chance to see, open until end Feb only!)
19:00 Fondue at the Ice palace
Meeting: Saturday, 26th February; 15:30 at Schwarzsee, Gypsera
(Trains arriving at 15:23, or you can leave the car at the end point of the program in Schwarzsee, Lichtena and use public transport at 15:15 to arrive there)
End of the program: around 20:00-21:00 at Schwarzsee, Lichtena
(Trains leave at 20:09 and 21:09)
Please note, that you have to pay for your own cost: the entrance of the palace and for the meal
If you are interested, please register in the below link, I opened it for 15 people. I will reserve the restaurant based on the registrations, so, please register only if you are sure to come and cancel registration if any change on your availability.
https://agateexperience.as.me/Schwarzsee
If you have any question, contact me ????
Cheers
Marta