Monday Yoga (Jonction) - All levels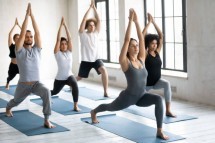 Monday, September 26th, 2022 @ 20:00
Av. de Sainte-Clotilde 24 · Genève, GE, Geneva
This activity is organized by the Geneva Sports Club.
We're a non-profit organization that coordinates sports activities in a fun and friendly atmosphere.
Funds left over after paying for the venues are regularly given to local charities.
To sign up, please follow this link:
https://www.meetup.com/genevasportsclub/events/288600294/
Namaste,
My name is Ben and I am offering Yoga classes in Geneva (in English).
I started my yoga journey about 10 years ago coming from a martial arts background looking for a healthy way to improve my flexibility ang agility. Since then, Yoga has taken more and more space and time in my life, and I am very passionate about helping people find yoga practices that match their own lifestyles. My style is most closely connected to Ashtanga Yoga with a certain degree of Vinyasa Flow. You will sweat but still be able to walk after class.
The class is open to any level of knowledge and experience and depending on your fitness level I will provide some variations of the postures. Should you have suffered any injuries or should have any limitations in your agility, you must share them before the class starts so we can adjust the practice to your needs.
We've booked a gym to practice yoga from 8pm to 9.30pm. Please read carefully the following information:
• Fee: CHF 20.- for one hour and a half to pay when you arrive by Twint or by cash to Ben.
• What to bring: You need to bring your own yoga mat and if you wish a yoga block. Water for hydration is suggested and a towel as large as your mat may also be helpful. Changing rooms and showers are available.
• Access: Bus stop "Sainte-Clotilde" and then walk 5min to the school or walk 9min from Plainpalais square.
• Meeting point: The entrance is the same as the main school entrance. Then, take your right and go downstairs to the locker rooms and the gym.
Look at the pin of the map below for exact location of entrance.
GPS coordinates: 46.19891018627373, 6.1316906882504805.
Should you have any trouble finding us, please send a message or call +49 160 585 22 88.
I hope to see you soon.
Ben
★★★----- Important Reminder-------★★★
"Please read carefully before doing RSVP"
☆Please only answer "going" if you are sure to come as place are limited. ☆
☆ Please note that the event will be cancelled if the minimum participant required is not reached ☆