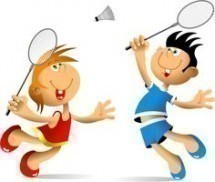 Friday, September 30th, 2022 @ 19:00
Tenis Club Vernier, Via Monnet 10, 1214 Vernier, Geneva
Friday at 19H for one hour. We will play badminton at the Tennis Club Vernier via Monnet 10 . We can have a drink or eat after the badminton at the restaurant of the Tennis Club. Please have 5 CHF cash.
There will be 8 persons including myself. I have only one extra racket.
We will play in teams of 4 and switch between us.
We play for fun!
Please respect your engagement or let us know in advance if you are not coming!!!
Even if the activity is not marked as full we will still play!
If you want to play and the activity is full please let me know and I might rent an extra court.