Stroll 167: from Pont de Sierne to Carouge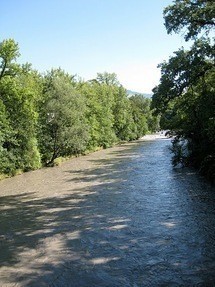 Sunday, September 25th, 2022 @ 11:30
, Geneva
Hello walkers,
The weather forecast for Sunday afternoon is reasonable so let us go for a walk.
We will meet at 11h30 at Rive to take bus 8 direction Veyrier-Douane. The stop of bus 8 is at the corner of Rue d'Italie and Rue de Rive. We will take the bus that leaves at 11h41 - you can also take the same bus 8 from Cornavin station leaving 11h33, check
www.tpg.ch
for your best connection. The bus arrives at Pont de Sierne at 11h51 where you can also join us.
We will follow the Arve river through Vessy and Bout-du-Monde (End of the World!) in order to arrive in Carouge.
We will have a little picnic on the way - take food and drinks along, plus something to sit upon.
Distance: about 9 to 10 km., with a few small uphills and downhills - regular walking or running shoes are fine (the trail may be a bit wet at some places).
We will take it easy and walk for about 2 1/2 to 3 hours. Expect to be back in town by 16h00.
cheers,
Bert