Geneva, Switzerland : Free hikes on the Saleve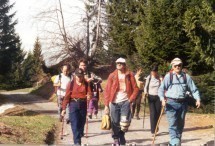 Sunday, January 29th, 2023 @ 10:00
, Geneva
Geneva, Switzerland : Free hikes on the Saleve. Every Sunday, let's go hiking (a gradient of 800 metres, 3 hours hike-up). Meeting at 10 am at the terminus of bus No 8 at Veyrier-Douane, Route du Pas de l'Echelle 111, 1255 Veyrier, coordonnées GPS : 46.16655350 N, 6.18831778 E (not at Veyrier-Tournettes, 100 metres from the border direction Switzerland, departure at 10h05 sharp). Taking the bus number 8 from Cornavin at 9:42 am will deliver you in time to meet up at the 10:05 departure time. A responsible (excursion leader) of the Association Genevoise des Amis du Saleve (AGAS) welcomes you in all weather. No prior registration necessary. Depending on the route chosen, you will expect a 5 to 8 hours hike. Departure of the hike from the meeting point. You must be in reasonable shape. Hiking boots (crampons in winter if ice ie if 0° or less and snow), raincoat or umbrella, passport, money, picnic and something to drink as well as good health are indispensable. The average number of people in an outing is 15 (in winter or bad weather 10, in summer or good weather 20). Bring with u ur Pass sanitaire (certificate 2x covid vaccine). No cable car till april 2023.
Site internet :
http://www.rando-saleve.net
.
Contact : Tel: ++41227964133.