Snowshoe hike to Dent de Verreu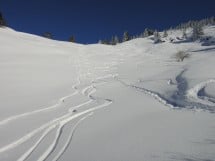 Sunday, January 29th, 2023 @ 07:30
Haute-Savoie, Geneva
ON Sunday January 29, If the weather is ok, I organize a hike to Dent de Verreu 1901m.
On Sunday January 29, if the weather is ok, I organize a snowshoe hike to Dent de Verreu 1901 m. A summit of Triangle de Criou, situated at the beginning of this triangle. It offers a great view over Giffre Vally , Criou, Fiz, etc. …
We start from parking of Tines on the road of Sixt Fer À Cheval. Go up to Le Mont, Maison Neuve, Praz du Mont and arrive at the summit.
Down by same way.
Elevation gain 1130 m. Length 11 km. There is not major technical difficulty. But sporty. For sporty hikers.
Photos from our latest hike to this summit:
https://photos.app.goo.gl/F4tMntwawqB3cL48A
Appointment. 7:30 at Veyrier-Douane, final stop of bus n° 8.
To bring: Good Mountain boot, snowshoe, gaiter, warm-cold and rain clothes, stick, glove, hat, drink, picnic. …..
Inscription is obligatory.
The hike is organized by the small hiking association Oxygen 74
https://www.randonneeoxygene74.com
There is a participation fee of 5 Euro for a daily license of the French hiking federation FFRP.
Passengers in the vehicle pay directly to the driver € 0.10 per km.
If you are interested, you can contact me on my direct e-mails
[email protected]
. You can also call me (only emergency) at 079 644 85 52
Do let me know whether you will come by car. Please write me your mobile number.
Amazraf