Seed Swap, Seed Fair, Gardening Workshops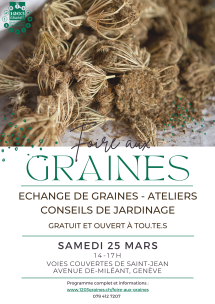 Saturday, March 25th, 2023 @ 14:00
Outside Saint-Jean Municipal Library - Avenue des Tilleuls, Geneva
All are welcome to stop by at this festival of urban gardening, seed saving and and growing.
You can bring your unused seeds to swap them with other gardeners' offerings. You can also just stop by to meet other gardeners
You will find seeds suitable for window boxes and balcony cultivation.
During the afternoon you and your kids can join in seedling workshops engage in seed bomb making and meet other people interested in growing flowers, vegetables or herbs.
The full programme is available at
https://www.1203graines.ch/foire-aux-graines/