Sunday walk, 10 to 15 Km, Riverside & Nature.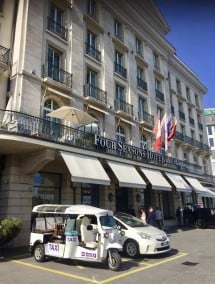 Sunday, March 19th, 2023 @ 13:00
In front of Four Seasons Hotel des Bergues, Geneva
Dear All.

A very last minute idea - hope you can make it.

We meet in front of the Four Seasons Hotel des Bergues, near de Mont Blanc Bridge by 1pm (13h00)

The weather forecast seems good for the afternoon, there is also a saying:
« No such thing as bad weather - only bad clothing »

The plan is to walk around 10 to 15 Km, mostly flat, and some easy uphill.
We follow the rivers for a while, than some forest paths, etc. We take a different route back.

Please confirm and sign up, if you plan to join. Maximum 12 people.

First come first served, but please sign up only if you are sure to attend.

Thank you.
Looking forward seeing you.

We're back in town by around 17h.