Discover Yoga: A Beginner's Journey to Mindfulness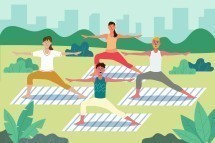 Tuesday, May 30th, 2023 @ 19:00
Mur des Réformateurs (Reformation Wall), Parc Des Bastion, Avenue Peschier, 1206 Genève, Geneva
Hari Om everyone,
Looking for a beginner's yoga class? Join me outdoors with a smile and an open mind! As a certified yoga instructor, I'll guide you through the poses and introduce you to the fundamentals of yoga. Don't worry if you're new to yoga, everyone is welcome!
Try to arrive 5-10 minutes early so we can start on time.
Please RSVP or contact me here or via Facebook messenger or Instagram DM as sessions are subject to weather conditions.
(
https://www.facebook.com/profile.php?id=100092047827697
)
(
https://www.instagram.com/zhengyoga88/
)
This is a safe and inclusive space for all, including the LGBTQ+ community. Best of all, it's free!
After the class, we can chat about the poses and answer any questions you may have. I'm looking forward to seeing you there!
Photos (1)