Let's go and see Les Flottins in Evian les Bains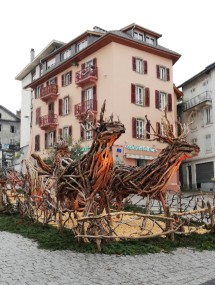 Tuesday, December 27th, 2022 @ 10:30
Débarcadère Ouchy, boat to Evian and back, Lausanne
Every year in Evian there's an outdoor exhibition using driftwood from the lake to create giant sculptures in the Village des Flottins . Always worth seeing.
It's free to just wander around.
There's a "spectacle Feux Flottins" at 3pm.
https://74.agendaculturel.fr/festival/le-fabuleux-village-des-flottins-2022.html
We could get the 11.00 boat from Lausanne Ouchy - at the moment there's a "dégriffé" ticket for 6.40Fr half fare. Then we could wander round, find something to eat as there are bound to be stands and definitely restaurants, do some shopping.
Return boats are at 14.45, 16.15 (probably the best) or 18.00.
The weather is looking warm (for the time of year) and sunny/cloudy.
I'm also open to doing this on Weds Dec 28th.