Hike from Allières to Rossinières in the Pays d'en Haut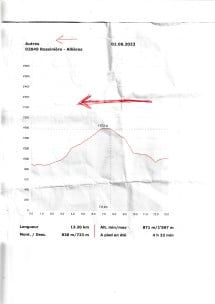 Saturday, August 19th, 2023 @ 09:30
Montreux station, Lausanne
A lovely hike among the green hills of the Pays d'en Haut.
The hike up is quite demanding - 700m altogether, see profile to be read right to left - with a long stretch of steep climb. Worth it as always for the views and the opportunity to buy cheese (and drinks) at the alpage at the top and we can take it slowly with breaks. The whole hike will take about 5hrs + lunch, drinks stops etc.
Meet at Montreux station to get the 9.50 MOB to Allières (cost for 1/2 tarif is 5.60Fr. We arrive in Allières at 10.21.
We should aim to get the 16.09 train from Rossinières to Montreux (9.30Fr).
Bring sticks, sunhat, suncream, plenty to drink, picnic.

If it's raining the walk will be cancelled/postponed to another date.

I'll give participants my phone number.