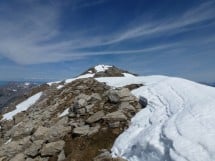 Sunday, June 10th, 2018 @ 07:30
Haute-Savoie, Geneva
On Sunday June 10, if the weather is ok, I organize a hike to Mont de Grange 2432 m. Le Mount de Grange is the central and one of the highest summits of the Chablais. It constitutes almost a massif by itself.
Its vast and generous sidewalls offer many pastures, which have given its name. The summit offers an excellent view of 360 ° over the Dents du Midi, Mont Blanc and the Matterhorn. …
We will start from the Chapel de St.Theodule 1310 m (Abondance) and descend by same way. This route has not technical difficulty. But it is sportif.
Gradient: 1150m. Distance : 14km. For sporty hikers.
Photos :
21.02.2012:
https://photos.app.goo.gl/no9AWzl3wHGOWgq42
10.05.2012:
https://tinyurl.com/y6vq3dco
17.06.2012
https://photos.app.goo.gl/N8dZiSVzskgSiTA29
03.10.2015:
https://photos.app.goo.gl/HUmUzDautRLuyDez8
Equipment: Good mountain shoe, drink, warm and waterproof clothes. Gloves. Hat, stick, drink, picnic …
Formalities: The newcomers are asked to fill out the registration form
http://assoc.pagespro-orange.fr/rando-74/Adhesion.htm
and deliver it to the organizer on Sunday morning.
We meet at Gaillard, behind the customs of Moellesullaz, in front of the Librairie de France at 7 : 30. Inscription is obligatory.
The hike is organised by the small hiking association Oxygene 74
http://rando-74.assoc.pagespro-orange.fr/
There is a participation fee of 5 Euro for a daily license of the French hiking federation FFRP.
Passengers in the vehicle pay directly to the driver € 0.10 per km.
If you are interested, you can contact me on my direct e-mails amazraf@bluewin.ch . You can also call me (only emergency) at 079 644 85 52.
Do let me know whether you will come by car and if you are an Oxygène member. Write me please your mobile number and your e-mail.